1845: Dr. Jacques Joseph Moreau writes his book Hashish and Mental Alienation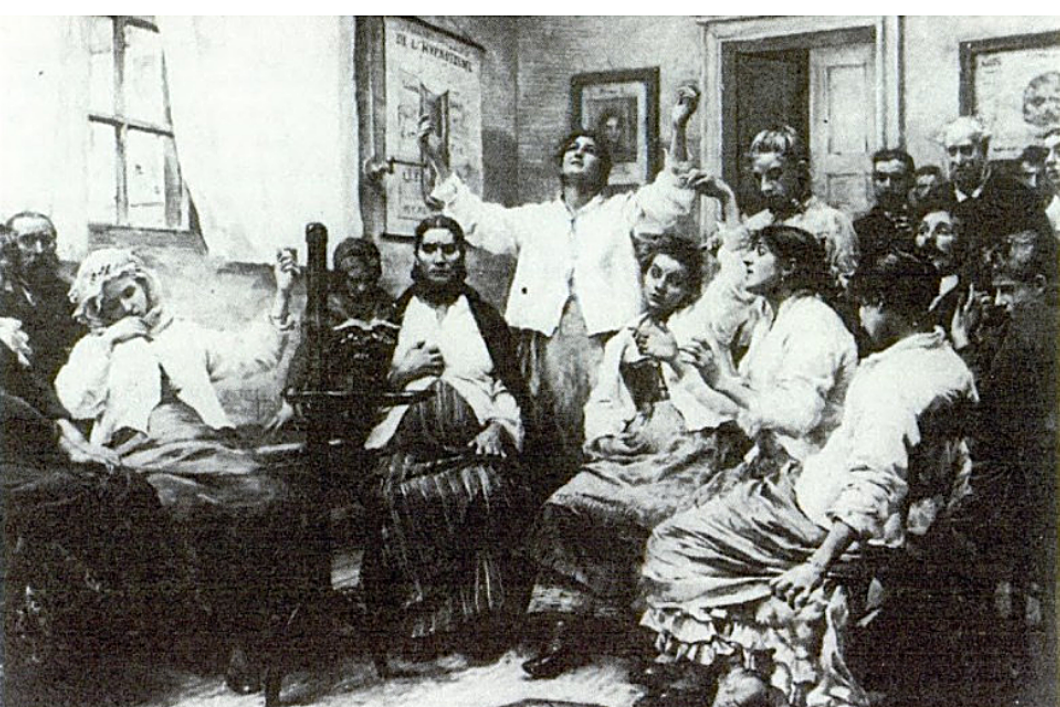 1845: Dr. Jacques Joseph Moreau writes his book Hashish and Mental Alienation.
Jacques-Joseph Moreau, a prominent psychiatrist, was the first medical man to do systematic work with drugs active in the central nervous system, and to catalogue, analyze ,and record his observations.
His 1845 book, Hashish and Mental Alienation, is still applicable today. Moreau termed marijuana a personality "agent provocateur."
The psychiatrist Moreau tested cannabis not only on his patients, but also on himself and his colleagues in the literary circle, Le Club des Hachichins. In fact, Moreau administered doses far exceeding that which any scientist today would be allowed to use. Without any government restrictions, Moreau used up to 16 grams. When one reads his results, therefore, one has to be careful about the interrelationship between the high dose of which he is speaking, and the pre-existing mental state of his subject. Nevertheless Moreau's observations are still relevant.
As did later researchers, Moreau discovered in his experiments during the 1800s, that marijuana's effects are dose dependent. If the dose was high enough and the use chronic, Moreau observed that his subjects often became insane. With the administration of lower doses, Moreau identified long-term personality changes that were more subtle, including shortened attention span, distractibility, and a progressive loss of mental powers.
Moreau did not view the progressive destruction of the individual's mental powers, under the chronic use of marijuana, as simply a linear addition of one more cognitive deficit in a human performance test. He stated that any individual under the chronic use of marijuana was "mentally disturbed." Moreau wrote, based on his observations and scientific knowledge, that by destroying the unity of thought in the individual, that individual was mentally ill, even if he did not look like, or act like, a psychotic. Moreau did not think one could automatically see this devolution in the initial stages with the naked eye:
"Such are all, or almost all, the physical disorders caused by hashish from the weakest to the most intense. One sees that they all relate to the nervous system. As we have already said, they develop much more slowly than the mental disturbance, and the mind can be profoundly changed without affecting the body. It seems that the causal factor [that is, the drug] acts directly on the faculties of the mind without the mediation of the organs, as in the case of mental illness" [emphasis added].
Moreau identified how the mind is destroyed from marijuana smoking, notably through distractibility:
One of the first measurable effects of hashish is the gradual weakening of the power to direct thoughts at will. We feel slowly overwhelmed by strange ideas unrelated to the subject on which we are trying to focus our attention. These ideas, which we have not wilfully summoned in our mind, appear at random and become more and more numerous, lively, and keen. Soon they command more attention and generate bizarre associations and fantastic creations. If by an effort of will we resume the sequence of our ideas, the ones we have rejected still echo in our mind; but as if from a far-away distance muffled like dreams of a restless night..
These ideas, or rather this series of ideas, are actually dreams, "true dreams" in the strictest sense. One cannot distinguish them from those created by natural sleep…. You forget those things which at present most excite your interest and stir your passions, which absorb all your attention, to dream only those which were in the past.
A little further on, Moreau summarized this process, stating, "The action of hashish weakens the will – the mental power that rules ideas and associates and connects them together.
Moreau's observations find frequent corroboration today. A comprehensive paper, "Effects of Smoked Marijuana on Human Performance: A Critical Review," by investigators L.D. Chaitt and J. Pierri in 1992, reviewed and analysed many years of marijuana investigations on human beings. In addition to the well-known short-term memory deficits from cannabis usage, these researchers found that another reported result of the human studies were frequent memory intrusions. (Memory intrusions are stimuli listed by the test subjects that are not actually present.) Also, they found reports of significant effects on tirne estimation. One of the researchers they cite, Nadaia Solowij, a cognitive scientist in Australia, recorded such memory intrusions, among other observations. She postulated that chronic use of cannabis might account for this, by creating long-term changes at the cannabinoid receptor.
If Moreau were alive today he would probably say that the individuals in these studies have an "agent provocateur," a term he coined for the effects of marijuana upon the nervous system. Slowly, subtly, the will of the person is being undermined.
- STEINHERZ, Karen and VISSING, Thomas (1997 - 1998 ): The Medical Effects of Marijuana on the Brain. In the 21st Century Science & Technology Winter .
Photo: "Hysterics of the Charite on the Service of Dr. Luys", image by Jacques-Joseph Moreau de Tours, 1887. 

Research and text © Hempshopper Amsterdam.