7.000 BCE: Earliest sample of clothing ever found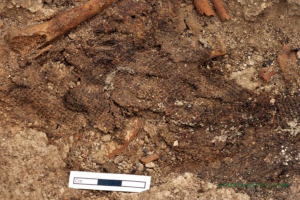 7.000 BCE: Earliest sample of clothing ever found.
Catalhoyuc is one of the most important archaeological sites in the world. Since the 1960s, excavations have uncovered a really rich Neolithic settlement which dates back more than 9000 years.
A piece of hemp fabric, which was used to shroud the body of a baby buried under the floor of a house, consists the latest impressive find from the prehistoric settlement. Dating 9,000 years ago, it is thought to be the earliest sample of clothing ever found to-date.
The head of the excavations, Stanford University member Professor Ian Hodder, said that the most important finding in 2013 had been discovered thanks to protection conditions of the tumulus.
Speaking about the piece of cloth, he said:
"The fire warmed up the ground and platforms of the building and created a kiln drying effect. Therefore the pieces and this piece of cloth underground have been so far protected. Examinations in the laboratory show that this piece of cloth is linen weaved with hemp".
"This is a first in the world and one of the best preserved examples" – states in the project's newsletter Professor Hodder – as he explains how the fire that destroyed the house overground actually protected the fabric.
Dogan News Agency (2014): Centuries-old fabric found in Çatalhöyük. Konya, Daily News.
Photo by Catalhoyuc Research Project. Excavation official website: catalhoyuc.com

Research and text © Hempshopper Amsterdam.