Serious Seeds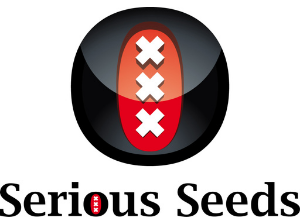 Serious Seeds aims to develop easy to grow, stable and homogenous genetics for medicinal and recreational smokers. This seedbank is the home of the classic award-winning cannabis strains: AK-47, Bubble Gum, Chronic, Kali Mist, White Russian, Warlock, Double Dutch, Biddy Early, Motavation, Serious 6, Autoflowering White Russian #1, Serious Happiness and CBD-enriched Warlock.
Serious Seeds strains have received more than 101 awards in different Cannabis competitions around the world.
As one of the older seed-companies in Holland, Serious Seeds concentrates on producing high-quality, stable and consistent varieties of cannabis seeds. They cross stable plants to produce potent F1-hybrids. This seedbank won a huge number of awards in different cannabis competitions: over 101
awards in total until now!
Quality Control
You are sure of plants, because Serious Seeds guarantees the germination of their seeds. The company produces in small numbers so the seeds are always fresh. They also select the seeds by hand. They even test every batch of seeds for germination rate and uniformity of the resulting plants before releasing it. This seedbank is the ONLY company to individually number their packages. This way every seed can be followed from production to the moment of sale.
Independent lab tests show that Serious Seeds strains produce the strongest plants available on the market today. They produce the highest THC-content, averaging between 18-22% THC. The tested plants came from the same seeds as the customer receives, ofcourse. The company aims to produce top quality cannabis seeds for medical and recreational goals.
A Menu of 18 Strains
There are 'only' 18 varieties on Serious Seeds' menu because they want to keep quality high. Serious Seeds only releases a seed strain once it is stable. In addition, the company improves existing strains through good selections. When they improve a strain, they sell the improved product under the same name. This instead of giving them new names and seeing them as new strains, as some other companies do. The seedbank says: "Sorry to all the people who constantly ask for new names, but we are working seriously on new strains, not on making up new names."
Filter
Showing 1–12 of 15 results