T.H.Seeds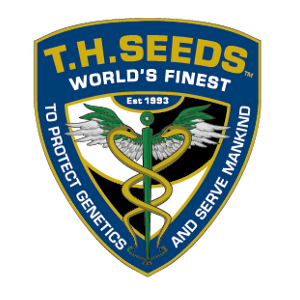 Founded in Amsterdam in 1993, T.H.Seeds is one of the oldest and most renowned cannabis seed companies in the world.
During its 25 years of existence, T.H.Seeds built up a reputation for creating the highest quality award winning Cannabis seeds. The company even is involved with the High Times Cannabis Cup in Amsterdam almost from the very beginning.
T.H.Seeds focusses on quality, flavor and strength. This way they developed a large and devoted following of breeders, growers, medical and recreational users. The company is famous for old school varieties like Original Bubblegum, S.A.G.E.™ and MK-Ultra™. But many worldwide also know their new strains like French Cookies, Underdawg™ and Strawberry Glue. Moreover, this seedbank even produced two medicinal strains that are held in the highest regard in the industry: La S.A.G.E.™ CBD and S.A.G.E.™ CBD.
Quality Recognition
T.H.Seeds won numerous awards with both flower and hash in a broad variety of Cannabis Competitions. The High Times Cannabis Cups with many, many strains as well as many other cups all over the world. T.H.Seeds customers won a lot of these cups. The seedbank is proud of each and every victory and thanks and congratulates all the award winning growers for bringing out the best of their T.H. Seeds Genetics.
The Company
T.H.Seeds opened C.I.A. Cannabis in Amsterdam, a Cannabis Information Center in 1993. Soon after came the first hemp store 'Hemp Works'. In addition they then founded the clothing brand 'HoodLamb'. This seedbank thus always is part of something bigger than just breeding legendary cannabis strains. For example, the company also played a fun and creative part in the transition of (medical) marijuana from underground counter culture to over the counter Pot culture. Nowadays, T.H.Seeds is as active as ever sourcing and breeding the next generation of powerful and flavorful medicinal cannabis. They do this with one simple philosophy: 'To Protect Genetics and Serve Mankind'.
Filter
Showing 1–12 of 19 results